THIS IS GALWAY
Galway City is a thriving modern city and is one of Ireland's
leading locations to live and to work in
Galway is a vibrant diverse bilingual city and the largest urban centre in the West
WHY GALWAY?
Today, Galway City is a thriving modern City, one of the fastest growing cities in Europe and one of Ireland's leading locations to live and to work in.
Galway is a vibrant, bilingual and diverse city. As the largest urban centre in the West, it is also the key driver of economic development and competitiveness in the region.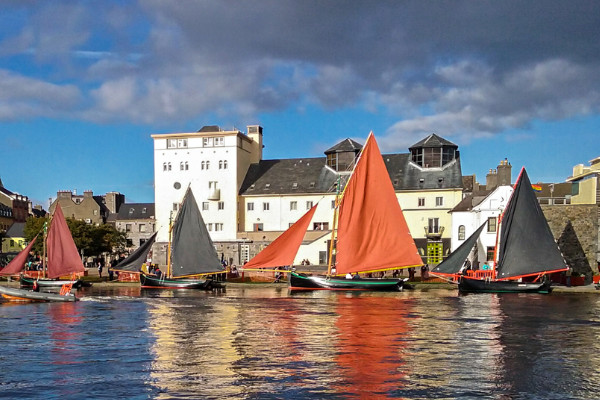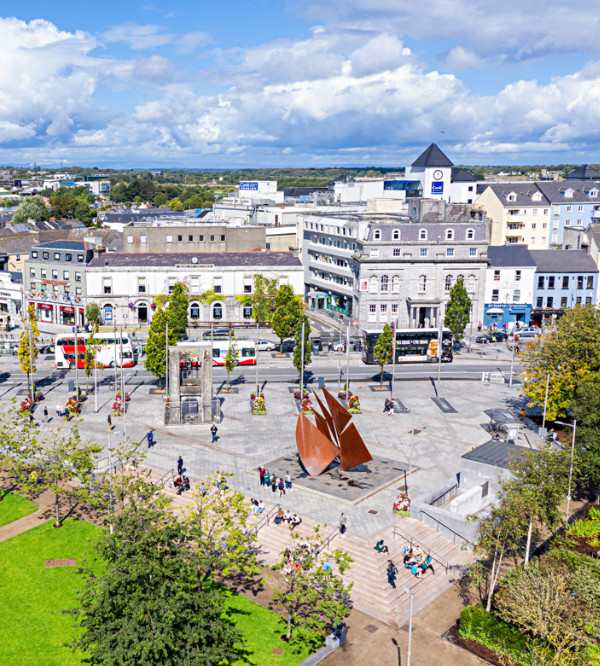 POPULATION
There are approximately 80,000 people living in Galway City; a further 60,000 people live within 30 minutes' drive.
TRANSPORT
Galway is well served with rail services and the expanding motorway network allows speedy, comfortable access to Dublin, Limerick, Shannon and further afield.
Galway is less than an hour's drive from two international airports, including Shannon, with direct flights to North America, UK and Europe.
The westernmost city in Europe is also the closest to North America. With US Immigration clearance at Shannon, Galway is less than an hour from the US border.
CONNECTIVITY
Air travel and wireless communications, two of the biggest influences on the way we do business today, had their first European land fall in Galway.
In 1907, the first trans-Atlantic commercial wireless messages were transmitted and received from the Marconi Wireless Station.
In 1919, the first trans-Atlantic flight landed in Connemara.
High speed wired and wireless internet access is widely available in Galway City and the major county towns while the governmentsponsored rural broadband scheme is being rolled out across the county.
EDUCATION & EMPLOYMENT
Galway is a University city with a highly-educated and creative workforce. Galway ranks second highest in Ireland for both the proportion of graduates and PhDs in its population.
28% of Galway City's population are students. With a student population of over 22,500, Galway has a well-educated, skilled workforce who are drawn to the city by its strong enterprise culture and lifestyle.
The National University of Ireland Galway and Galway-Mayo Institute of Technology work closely with employers in the area to ensure that science, engineering and biomedical education is world-class and relevant to their needs.
Galway's third level institutions and the Education and Training Board have established a strong but adaptable infrastructure of life-long learning which encourages active employer and employee involvement in skill acquisition.
It is a global centre of excellence for medical technology companies, IT services and the Marine sector with a vibrant and growing start-up infrastructure.
MAJOR INDUSTRY
Long-established multi-nationals have benefitted from the dedication and creativity of Galway's ambitious workforce. Galway is home to 4 of the top 5 ICT companies – IBM, SAP, Oracle and Cisco.
Relationships have been built with the educational institutions, local government and state agencies bringing a strong sense of collaboration which benefits the entire community. Newer companies are attracted by the talent pool, accessibility and lifestyle.

Galway's quality of life sets it apart
Life in Europe's most westerly city is inspiring yet relaxed. It's full-on when you want it but allows you to immerse yourself in its culture and absorb its energy at your own pace.
Drawing from its rich cultural heritage and its unique countryside, Irish-speaking Connemara to the west, the dramatic Burren to the south, Galway has long been recognised as Ireland's capital of culture. This was officially acknowledged with Galway's designation as European Capital of Culture for 2020.
Over 20% of the population come from overseas, attracted to work, learn and live at an easier pace of life, with less commuting and at a lower cost.
In addition to being a UNESCO City of Film, Travel & Leisure magazine named Galway its Friendliest City in the World in 2015.
Galway was awarded an environmental EU Green Leaf for 2017 and was nominated a European Region of Gastronomy in 2018.
Sitting on the mid-point of the Wild Atlantic Way, Galway's outdoor life and activities make the most of its dramatic countryside.
Galway attractively combines a cosmopolitan diversity with a distinctive regional culture.
Given all of the above, Galway is an attractive place to live and is well placed to continue attract and retain talent from all over the world.

Galway City and County Councils have established that there is a need to provide relief from traffic congestion in order to implement smarter mobility and public transport measures, such as Galway BusConnects, including a network of park-and-ride sites.
At the core of the overall vision is the seamless integration of movement and public realm with the surrounding city
At the core of the overall vision is the seamless integration of movement and public realm with the surrounding city.
The Galway City Development Plan 2017-2023 identifies existing and proposed main Cycle Routes and Greenways in and around the city centre.
We propose that these are connected with and extended into the Harbour Area. In doing so, there is the opportunity to connect with the existing and proposed main cycle routes into and around the city centre.
CAR PARKING
The vision is for a sustainable and liveable city quarter, with priority given to pedestrian and bicycle movement. Sufficient car parking will be provided to meet the likely needs of future occupants.
GALWAY BUSCONNECTS
Galway BusConnects will deliver a rationalised network of five high-performing cross-city routes. All routes will serve major city centre attractions as well as linking all major destinations across the city. Galway BusConnects will comprise next generation bus lanes, enhanced services, cashless fares and account-based ticketing. As part of this programme delivery, a network of park and ride sites, serviced by the more efficient bus network, will be put in place. Galway BusConnects will also encompass a variety of city centre public realm enhancements which will enhance the overall transport experience and improve the attractiveness of the city centre.
GREENWAY
Our vision provides for the 'Greenway' being developed from Oranmore to Barna, as well as main cycle routes along the River Corrib and Lough Atalia.
Adjacent to Galway's public transport hubs
Cycling

connects existing and proposed cycling routes
provision of bike racks and bike share schemes

Extensive pedestrian routes and the provision of a running track
Provision of electric vehicle charging facilities and potential to accommodate car share service.